I, Reidar Gabrielsen, am born in Stavanger, Norway. I am married to Inger, and have two children; Endre born in 1972, and Tonje born in 1975.
I have worked with dogs since I was about 15 years old. "My breed" has been German Sheepdogs until 1994, when we lost our last dog due to old age. I have also had Pekingese, Golden Retrievers and Welsh Corgis.
I have been active within most disciplines of working dogs; I have had dogs that have gone through all the classes in obedience, avalanche dogs and rescue dogs. In addition to this I have worked as a trainer for guidedogs. In the last few years I have concentrated on breeding and showing our dogs, in addition to work as an instructor on different levels of obedience training.

Fra Kennel Reigab's hage
In addition to having dogs, I have for several years bred tropical birds, with my main interest in parrots (mainly Amazons). I judge parrots (N.T.F.), and I am a member of the judging committee in Norway. I have also had horses from 1972 until the summer of 2000, when we sold our last horse.
Our daughter Tonje is a co-owner of Kennel Reigab's.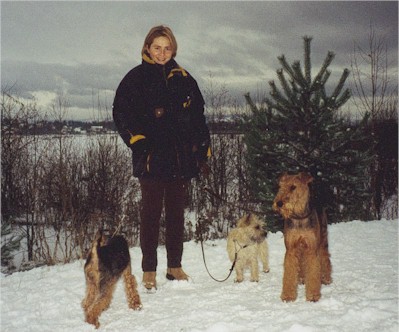 Tonje with the 3 champions; Nora, Zina and Vera
She has, as well as an interest in the dogs, been active within riding dressage. Tonje studies marketing in England at the moment, where she gets to maintain her interest for Terriers; as she lives in Yorkshire, where the Airedale Terriers originated.
In our breeding, we emphasize the use of dogs with width and quality in their lines and in each individual, in looks as well as in temperament.
We have produced a lot of nice dogs, but unfortunately it is not always easy to find buyers who are interested in showing their dogs, or have the ability to trim and handle the dogs to their advantage.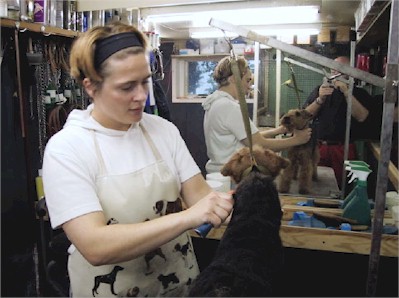 Tonje grooming a Welsh Terrier
We therefore try to encourage the puppy-buyers to be active with their dogs by arranging obedience training (each puppy is sold including 20 hours of obedience-training), as well as be of help with trimming and show training.